I love San Francisco. It can be such a fun, freaky and sometimes unpredictable city. I was in the Castro on a beautiful sunny day last week browsing through sex shops for cool gear. I found some nicely made leather gags that were much more reasonably priced than the more prominent local SM shops. I must relate a funny exchange I had while in one store. When I asked the young clerk where the gags were, he pointed me to a bin full of novelty toys.

After a moment of sifting through the junk, I spotted an array of gags behind the glass counter. "Oh here they are!" I exclaimed. "Oops," he said. He had thought I had meant gag gifts :-)

I had him pull out an O-ring gag and began to examine it. He looked a bit mystified and seemed to want to say something. Finally he spoke up. "Can I ask you something?" he said a bit hesitantly. "Sure," I said. I was half expecting a little attitude, being a pretty straight-looking woman in a gay sex shop. Instead he asked, "What is that for?" I smiled. He was serious. When I explained that it was to hold a slave's mouth open so you could do things like piss in it, he looked stunned. "I had no idea," he said slowly.

He asked me how I knew so much. I told him I was a professional dominatrix. "What's that?" he asked. "I get paid to top people," I replied. "Wow," he said, "and you can make a living doing that?" I assured him I could.

I then asked the price of an electroplay butt plug attachment and ended up explaining how that worked as well. He seemed genuinely clueless, which was highly amusing given his current employment. It seemed as if he had just gotten off the bus from middle America. "I've only worked here a few weeks," he explained, "and we just got the SM stuff in the other day. But I really want to learn about it all."

"Well, you're in the right place," I said as I left with my purchases.

After popping in and out of a few different shops, I ended up with a nice collection including the o-ring gag and a gag with a mouth filler in the shape of the head of a cock. I also couldn't help but grab a small white hand towel with the word "SLUT" emblazoned in big black letters. That'll be fun to toss at one of my slaves once the slut's been all used up and worn out!

Shopping is definitely a rush of its own. Yet there's nothing quite like picking up a few kinky items to put a perma-grin on my face.



#



The other night I attended a male to female transexual beauty pageant: Model Search 2005 (www.modelfile.net). TS pageants always get me hot. I love over the top sexy women with a twisted edge, so how could I not like T-girls? Many are natural dommes, as their world is by definition a detour from the "norm" and they often combine the aggressiveness of a man with powerful feminine wiles. I can relate to their high sense of aesthetics. After all, I was raised in Hollywood so I dig a little eye candy now and then :-) The Model Search was a fun, feel-good event for a community that remains in the periphery of society. Fortunately, awareness continues to grow -- as evidenced by last year's winner Cassandra making a guest appearance on an episode of the TV show CSI.

I have a thing for good tranny porn. Ever since I turned pro domme, I've had some difficulty watching straight porn. For better or worse, I can no longer fully appreciate the traditional perspective of the male gaze. I am much more critical of how the men try to top the women, wondering whether the women are enjoying themselves and if the working conditions seem to be acceptable. So I am thankful for the recent surge of quality TS porn for saving my viewing pleasure. There's steamy action with masculine and feminine energy. At the same time, I'm not overly identifying to the point of distraction. Some level of objectification is necessary for my arousal!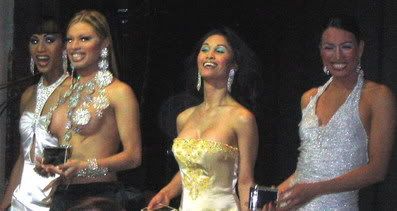 Model Search 2005 winners