I wanted to share a photo and email from one of my lovely slaves. A little background first. Despite the fact that Angela had been fantasizing for quite some time about feminization, she had not even begun to experiment with cross-dressing in all the years she had seen professional dominas -- until she came to visit me. From our very first session together, I sensed the possibility for a fruitful connection. Beneath her quiet exterior, I perceived a commonality in interests and outlook. I could see further exciting explorations on the horizon, once true trust was established.

Over the past 2 years, I have watched Angela transform into a self-assured, adventurous cross-dresser (who plays the part of delectable slut especially well on all fours in stockings and garter!) and a delightfully masochistic submissive.

Of course, we each have our own unique paths to follow. Yet whatever one's innermost desires may be, I take pride in creating an environment of trust, celebration and pleasurable self-exploration.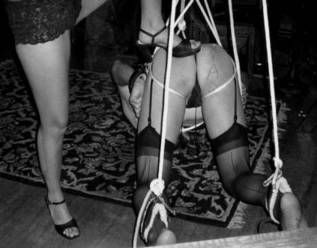 Mistress Xia and slave Angela

From Angela's email to Mistress Xia:

Sometimes Angela wishes she could tell other people about Mistress Xia, because this is what she would talk about. First, she would credit Mistress for her spirit of life, both her own personal life and her ability to demonstrate to others to not be afraid to live boldly. Second, Angela would tell about Mistress' curiosity to explore - to search for new interests, new experiences, and new thresholds to cross... and to again give confidence to others to follow their own explorations. Third, Angela would describe how a person could combine kindness and cruelty in all the proper amounts at all the right times. Finally, Angela would try to describe to someone how fulfilling it is to be a slave to a wonderful Dom like Mistress Xia.