Though I didn't go this year, a few good friends recently returned from
Burning Man
in high spirits. There is something quite magical about this festival in the Nevada desert. For a few days at the end of every summer, thousands of people (mostly from San Francisco) gather together to create a unique temporary community in the middle of nowhere. Last time I went there were at least 30,000 people, so it's almost on the scale of a small city. And at the end of each festival, there is the burn. Playing out the cycle of creation, destruction and rebirth, the burning man and other prominent structures are burned to the ground, only to arise once again the following year.
I have always loved the desert. The treks my family made by car from Los Angeles to Las Vegas when I was a kid -- staring out at that crazy big sun over a seemingly barren landscape. My field trips to the rocks when I studied geology -- climbing over a hill to find huge piles of ancient sea-life fossils. And now the out of this world, costume-filled revelry and artistry of Burning Man. I love the stillness, the cracked mud playa, the beautiful sunsets, dust devils that come out of nowhere and that thick, arid heat.
Burning Man is a contemporary version of an age-old idea -- namely the topsy turvy world of the carnival. There are impressive similarities between Early Modern European carnivals (1500-1700) and festivals like Burning Man. During these celebrations, the normal rules of convention and behavior are thrown out the window. Roles are reversed, inversed, flipped around and twisted. It is a momentary respite from the rigidity which normally encloses society. Sound familiar? Indeed, these are the same undercurrents which run through BDSM and fetish play. What makes interacting in these environments so powerful is the absence of a reference to your day-to-day reality. It allows one to feel truly liberated. In fact, it was during my first time at Burning Man that I became fully in touch with my sadomasochistic side. I have encountered many others who have had transformative experiences there. And many other SM players make it out to "the playa."
Burning Man has become even more inclusive and diverse over the years (mind you, I'm not too keen on the videos of nudists that make their way onto sensationalistic fare like "Inside Edition" -- as if the event is some girls gone wild scene). It used to be very much about the San Francisco artist. Yet the motto "everyone is a participant" has allowed people who do not primarily identify as artists to also embrace their creativity. It is a wild, primal experience that can be both cleansing and nourishing.
So that's my take on Burning Man. No commercial vending, no corporate sponsorship, just real raw human interaction at its best.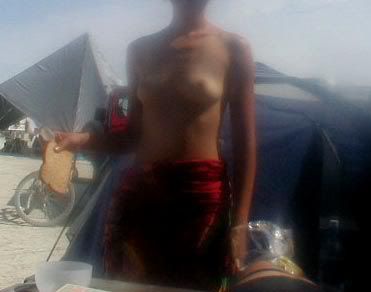 Eating bread at Burning Man 2002 ;-)