Apparently one of my computer hard drives crashed. We are working on recovering the files. It would be a shame to lose everything, as I had a lot of information on there. Like all my personal and professional digital photo albums, including the rest of a series of pictures I'd been posting and had planned on making into a new gallery on my xia-bdsm.com site. Let's all cross our fingers on this one, as there are many years worth of memories at stake! Thankfully, I have back-up and hard copies of most of my writings.
I did manage to dig up a thumbnail of a third photo in the series I've been posting. Hopefully all the rest will come back to me as well.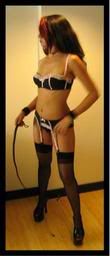 M.X. with Whip -- Crack!
On another positive note, I recently celebrated my birthday and was happy to receive best wishes from those in the know. Yes, I know I didn't announce it. It just happened to fall on the same day as at least one other momentous occasion (though certainly one more controversial than my celebration), so I felt it best to keep things low key this year. One birthday greeting came from a long-term slave of mine who has been serving me for over 2 years. He's been a great help to me with some of the backend tasks involved with professional domination and is even putting together a comic book inspired by me. Indeed, just as I have been a muse for his creativity, he and other wonderful slaves have inspired me in my creative endeavors. This spontaneous outpouring of sweet sentiment put a big smile on my face. I let him know I'd like to share it with everyone.
#
Mistress Xia,

I don't know if you've gathered this from all our varied interactions, but I would like to take this time to let you know how much I greatly admire you as a human being.

This all may sound corny, but I feel very lucky to have met you and even to have been born in the same time era as yourself. It is so rare to come across someone who opens up new experiences in your positive, non-judgmental way. Also, your desire to squeeze the absolute most out of this miracle of life is astonishing. Your need to constantly better yourself through meditation, workshops and additional college coursework are truly inspirational. I've never encountered the need to create art (M. Xia comic book) through such a muse as yourself. Thank you for giving me the choice to take the "red" pill, for I've never looked back...

Okay, that's enough before I turn too sappy. Bye for now.